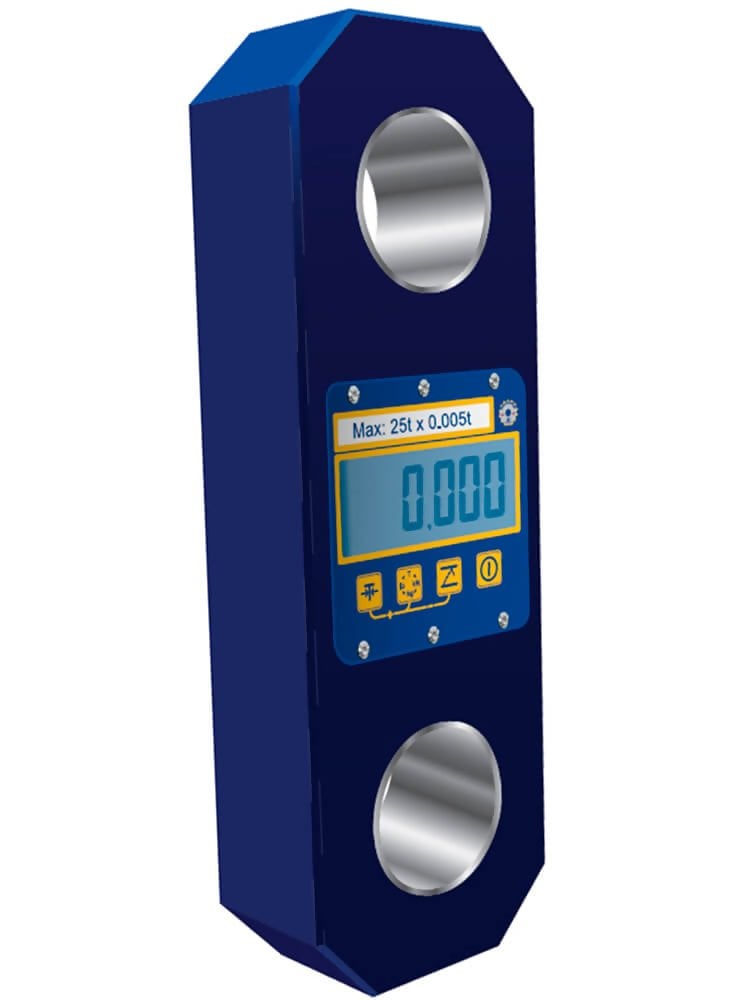 ---
Digital Dynamometer with Built-In Display
---
Capacities up to 300 Tonnes / 660,000 lbs
---
The Straightpoint LoadLink Plus Digital Dynamometer Tension Loadcell is designed for weighing and dynamic load monitoring in a wide range of applications. It has been in production and supplied globally to the lifting and rigging industry since 1979.
The Loadlink plus has an easy to read LCD display and push button operation for a host of features demanded by operators worldwide.
This range of digital dynamometer load cells are used on a daily basis for load monitoring, weighing and heavy lifts ranging in capacity from 1 to 300 tonnes, by a variety of industries including rigging, shipping, transportation, offshore and onshore oil and gas, utilities, aerospace and mining.
The Loadlink plus is manufactured from high-quality and high-tensile aircraft grade aluminum. Due to this manufacturing process Straightpoint Loadlink digital dynamometer load cells are on average 30% lighter than our closest competitor with the same safety rating making them idea for portable load testing.
Thirty years of experience manufacturing this rugged, lightweight loadcell with advanced electronics and full feature display make the Loadlink Plus the number one product for the lifting and rigging industry worldwide.
Straightpoint LoadLink-Plus Digital Dynamometer Tension Loadcell
RFID tag
Calibration Certificate
Instruction Manual

Models up to 35T/77,000lbs are supplied in foam fitted carrying cases. Larger capacities are supplied in an approved shipping crate
Large easy to read LCD Display
High Accuracy of 0.1% full scale
Selectable Units - t, lbs, kg or kN
High Resolution, 5000 divisions as standard
Peak Hold 100Hz peak force analysis
Tare and Preset tare
Lightweight due to aluminum construction
Overload Counter ideal for rental industry
90 db Audible Set Point Alarm to warn operator of overload
RS-485 Serial Output to connect to Handheld plus or Desktop Controller
Designed for use with standard Crosby or Green Pin Shackles
Complete Design of load cell has been validated by Finite Element Analysis
"-WS" models are supplied with two (2) shackles, refer to BUY NOW Section at bottom of page
Bluetooth Option allows user to use Free App for wither Android or IOS Smarphones to view, log and transfer data via email or text. This eliminates the need for using a separate Hand-Held indicator.
DNV Type Approval (DNVGL-ST-0378 Standard for offshore and platform lifting appliances)
Environmental protection rating of IP65 / NEMA5
Warranty 1-Year (FREE Extension to 2-Years with Product Registration)
Made in the UK
| | |
| --- | --- |
| Accuracy | +/- 0.1%of Full Scale |
| Battery Type | 9v PP3 |
| Battery Life | 80 hours continuous |
| Display Type | 6 digit 1 inch LCD (25mm) |
| Operating Temp | 14F to 122F (-10C to +50C) |
| Protection Sensor | IP65 / NEMA5 |
| Warranty | 1-Year (FREE Extension to 2-Years with Product Registration) |
Model
Capacity
Res.
Weight
Safety
Factor
Load Pin
Diameter
Overall Height
LLP1T
2000 lb
1000 kg
1 lb
0.5 kg
3.1 lb
1.4 kg
12:1
3/4 In
19 mm
8.03"
204 mm
LLP2T5
5500 lb
2.5 te
2 lb
0.001 te
3.1 lb
1.4 kg
5:1
3/4 In
19 mm
8.03"
204 mm
LLP5T
11000 lb
5 te
2 lb
0.001 te
4.4 lb
2 kg
5:1
1 In
25 mm
9.80"
249 mm
LLP12T
26000 lb
12 te
5 lb
0.002 te
7.1 lb
3.2 Kg
5:1
1-3/8 In
35 mm
12.01"
305 mm
LLP25T
55000 lb
25 te
10 lb
0.005 te
11 lb
5 kg
5:1
2 In
51 mm
13.39"
340 mm
LLP35T
77000 lb
35 te
10 lb
0.005 te
19 lb
8.6 kg
5:1
2-1/4 In
57 mm
15.47"
393 mm
LLP50T
110000 lb
50 te
20 lb
0.01 te
25.3 lb
11.5 kg
5:1
2-1/4 In
57 mm
16.69"
424 mm
LLP75T
165000 lb
75 te
20 lb
0.01 te
35.3 lb
16 kg
5:1
2-3/4 In
70 mm
18.50"
470 mm
LLP100T
220000 lb
100 te
100 lb
0.05 te
75 lb
34 kg
5:1
3-1/4 In
83 mm
23.94"
608 mm
LLP150T
330000 lb
150 te
100 lb
0.05 te
101.4 lb
46 kg
4:1
3-3/4 In
95 mm
26.38"
670 mm
LLP200T
440000 lb
200 te
200 lb
0.1 te
158.7 lb
72 kg
5:1
4-3/4 In
121 mm
27.56"
700 mm
LLP250T
550000 lb
250 te
200 lb
0.1 te
158.7 lb
72 kg
4:1
5 In
127 mm
27.56"
700 mm
LLP300T
660000 lb
300 te
200 lb
0.1 te
260 lb
118 kg
5:1
6 In
152 mm
31.73"
806 mm
| | |
| --- | --- |
| for RLP, CP, LLP and WLP Dynamometers | |